Time to take that next step!
Got a mobile project up and running? Read on…
With nGOmobile we're hoping to help a few lucky NGOs get their projects off the ground, projects which may have otherwise never seen the light of day. But what it you've already got a project? What if you're already out there using mobile in innovative ways? Whether you've got an existing mobile project – or if you turn out to be an nGOmobile winner! – there are competitions out there for you
So, why not take that next step? Tell the world what you're doing…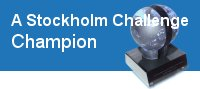 The Stockholm Challenge
The Stockholm Challenge promotes ICT for development with an award that invites entries from projects that use ICT to tackle the world's biggest problems. Since it
began in 1995 it has won a world-wide reputation for finding and connecting innovative information and communication technology based projects in Health, Education, Government, Culture, Business and Environment
The award is open for applications from January 1st to December 31, 2007 and offers a chance to win the prestigious Stockholm Challenge Trophies. To enter the Stockholm Challenge visit the registration page and enter your details
The prize ceremony in the Stockholm City Hall will take place during Challenge Week from May 18 – 22, 2008. This five day event for the finalists has become one of the strong features of the Challenge programme. The invitation-only event is free to all finalists who have come to constitute a community of energy, expertise and inspiration in social entrepreneurship. In May 2006 Challenge Week brought over 200 people to Stockholm to participate in workshops, a conference, study visits and the prize giving event in the City Hall
In addition to the regular awards programme, the Stockholm Challenge is collaborating with the Global Knowledge Partnership (GKP) on an extended opportunity for participants – the Stockholm Challenge GKP Awards 2007. This award is especially for participants that are also Multi Stakeholder Partnerships (MSPs). The Stockholm Challenge GKP Awards 2007 will be presented in Kuala Lumpur, Malaysia at the Global Knowledge III conference
A Browser for the Best Projects in the World
In its ten years the Challenge has received over 3,000 completed entries, out of which some 500 projects have been identified by the international jury as finalists and winners
The Challenge projects illustrate how skills and efforts in applying ICTs – to create new and better services and products – can counteract the digital divide and and contribute to solving previously intractable problems
By stimulating contacts between participants and partners with a wide range of experience, the Challenge creates a lively interaction to build networks of some of the best ICT groups and cross competence teams in the world
Why Enter The Stockholm Challenge?
Every entry in the Stockholm Challenge is a commitment, not only of time and energy, but of reputation and self esteem. In recognition of that, the Stockholm Challenge uniquely promotes and profiles not only its winners, but all who complete the entry requirements
A platform and an evaluation
Many people find that simply by having to answer the Stockholm Challenge Award questionnaire, they gain a fresh view of their own activities, their goals and how they are working to meet them. Participation in the Stockholm Challenge provides a platform where project teams can demonstrate their activities, and offer them for evaluation by a jury of experts from around the world
One hundred winners
While only six participants, the winners in each category, take home a trophy from the award ceremony, all finalists win something equally valuable; participation in the Challenge Week. They are invited to join their peers in Stockholm for a week of workshops, conferences, discussions, social events and networking opportunities with some of the brightest minds and most determined achievers in ICT for development anywhere. Challenge Week is an invitation only event. All activities are free to the finalists, including the spectacular Award ceremony in the Blue Hall of Stockholm City. In each round of the Stockholm Challenge, about 100 projects reach the required standard to join this elite gathering
World reputation
Those who succeed in the Stockholm Challenge earn a valuable addition to their brand. Finalists and winners in the Stockholm Challenge Award are offered a share in a global reputation gathered from many places; from the people of Sweden and their commitment to independence, equality, social and human progress, from the Advisory Board which includes luminaries such as Nobel Peace Prize winner Muhammad Yunus and Sun Microsystems's John Gage and from the breadth and depth of experience of its international jury. Winners and finalists of the Stockholm Challenge are global role models for cities, companies, organisations, schools and others who are involved in adapting and spreading the use of ICT
A knowledge bank
In the global knowledge economy the Stockholm Challenge acts as a bank; a bank of achievable, replicable ideas in its project database and a bank of expertise among its participants
As multilateral organisations and funding agencies increasingly use the Stockholm Challenge as a source of information, those who enter have another channel to reach those eyes
Owners and Sponsors
The Stockholm Challenge is owned by The Royal Institute of Technology (KTH) and supported by the City of Stockholm, Sida and Ericsson
The Global Messaging Awards
Now approaching its 5th year, the Global Messaging Awards are the only awards that recognise the global role messaging plays in our lives today. The awards cover the whole range of mobile messaging from SMS and MMS, to IM, email and voice messaging, and are open to all organisations with a suitable messaging product, service or initiative
The awards are organised by Mike Grenville, CEO of 160Characters, the independent mobile messaging, news and networking forum, founded in 2001.
Still untapped potential
SMS evangelist, Mike Grenville, said: "I firmly believe that we are still at the beginning of the potential of SMS. The format standards have stood the test of time and are so well established in both the handsets and the networks that the standards body recently disbanded. Although most of the world's population are carrying a device with them where ever they go that can send and receive text messages to each other the implications have not been fully absorbed.
"People young and old can easily communicate with each other at any time, including many situations where talking would be inappropriate. And more than that, by being able to send information to and from all sorts of databases, SMS can easily access all sorts of information when and where it is needed"
"Informa Telecoms & Media data shows that SMS traffic is growing faster than ever in a number of developed markets as well as in emerging markets," says Pamela Clark-Dickson, editor of Mobile Messaging Analyst, ITM's premier continuous research service covering developments in the mobile messaging industry sectors globally. "Attractive pricing and applications and services which use SMS in increasingly innovative ways are helping to drive its continued success"
Industry judges select the winners, announced at the Gala Awards Dinner immediately after the first day of Informa Telecoms & Media's Global Messaging Congress
The 2008 competition will open shortly. Full details on last years awards are available on 2007 Mobile Messaging Awards website

Global Mobile Awards 2008
The GSMA's 13th Global Mobile Awards
culminates in a night of celebration with the
winners taking to the stage of Barcelona's
spectacular National Palace on Tuesday
12th February, 2008. The awards are all the
more poignant this year, as the GSMA
celebrates 20 years of Global Mobile Communications!
These awards are now an established centre-piece of the world's largest and most successful mobile industry event, the Mobile World Congress – formerly the 3GSM World Congress – which takes place in Barcelona from the 11-15 February, 2008
These awards celebrate the highest achievements across an industry that has achieved so much over 20 years, and the categories for 2008 have been specially designed to recognize the wealth of ingenuity and creativity from all corners of the mobile industry's global eco-system that contribute to the continued success and growth of the mobile world
Encompassing Innovation, Mobile Entertainment, Mobile Services, Handsets and Devices as well as Technical categories among others, our awards scheme also affords a celebration of yet another year of fast pace growth and progress
The spirit of the industry in terms of its social and economic contribution is captured in the 'Bridging the Digital Divide' Award, created to demonstrate and the unique role of mobile communications today in connecting people, communities and nations, and driving the social and economic fabric of countries throughout the world
The Mobile Innovation awards category is part of our recently launched Mobile Innovation Program, a global initiative tied to our awards program that provides a unique showcase of the tremendous range of innovation that exists in the mobile world – from products, services and applications to technologies from the generators of great ideas notably small and medium sized companies that represent the lifeblood of our industry's future
The awards also showcase yet another new facet of mobile, as the new entertainment medium of our era. Mobile Entertainment categories include Gaming, Music, Video and this year Mobile Social Networking and Infotainment Portals
These prestigious Awards – the 'Oscars' of an industry that serves a third of the world's population – represent a stage for all players in the mobile world to attract the attention of their peers and the global media in and around our international community. They also provide opportunities to thank customers, employees, partners and investors
To find out more visit the Awards website, or complete the entry form here